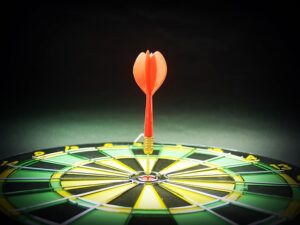 Both in and outside my counseling office I encounter people who are seriously distressed by their own imperfections.  They want to do everything perfectly and are perpetually disappointed in themselves for falling short.  Overwhelmed and under-rested, these people spend much of their lives on the performance treadmill–yet, they seem to get nowhere.  And they often struggle to take pride in the work they do accomplish;  nothing they do is good enough.  Eventually, they become wearied and exhausted.  Some even end up despairing of life itself.
These are the perfectionists.
There are many reasons why people may become perfectionists, but I'm not going to explore that here.   Instead, I want to talk about the root problem of perfectionism and offer a reasonable solution.
The problem of perfectionism is this:  Perfection is an illusion!  Like trying to grasp a hologram, perfectionists are chasing after something that can never be caught.
Here's why I say perfectionism is an illusion:
We are human.  As I blogged recently, the most loving husband or wife remains notably imperfect!  Truly, all of us fall short because we are fallen people living in fallen bodies in a fallen world.  Our bodies themselves are far from perfect;  our faces are not even perfectly symmetrical!  In heaven, it's possible we'll do everything perfectly, but that's impossible on this side of eternity.
We don't just have one thing to do.  We have many roles and responsibilities to fulfill in life, not just one.  For my part, I am a disciple of Jesus, a husband, a son, a dad, a grandfather, an uncle, a brother, a nephew, a cousin, a counselor, a neighbor, a friend, a citizen, a church member, a homeowner, a gardener, a runner, a student, a blogger, a janitor, a nursery volunteer, a musician, an occasional preacher, and a board member of two separate non-profit organizations.  Can I be perfect at all of these roles?  Not a chance!  In fact, I can't be perfect in any of these roles.  [If a person only had one role–such as a professional figure skater–and dedicated their life to that one thing alone, I suppose he or she could approach perfection in that singular area.  But they would be even further from perfect in all other areas!]
Our energy is limited.  We only have so much energy to spend fulfilling the roles just mentioned.  We consume and burn about 2,500 calories a day to fuel our brains and body.  We also need to sleep to recharge our brains and bodies.  God designed our human bodies with physiological limitations and the need for a sabbath rest, so we must live in that reality.  If we don't slow down, pace ourselves, and practice self-care we will either peter out, burn out, or be taken out.
Our time is limited.  Another reality is that each of us is given exactly 1,440 minutes per day–no more, no less!   We can't supersize our day or purchase an extension pack to gain more minutes.  We each have a finite amount of time with which to accomplish whatever we can.  [We don't have the luxury of living like Bill Murray in the movie Groundhog Day.  He could approach perfection because he had a virtually unlimited amount of time to get it right.  He was able to master French poetry, create beautiful ice sculptures, master the piano, plan the perfect robbery, toss cards perfectly into a hat, and know every detail about everyone in his town–only because he had no time restraints!]  If Malcolm Gladwell's theory is correct in that it takes 10,000 hours to become an expert at any one thing, there's just not enough time for any of us to become perfect at much of anything!
I hate to break it to you, but you cannot be perfect–and, as I wrote six years ago, you shouldn't expect your kids to be either!  Perfectionism is an illusion.
Yet, people keep trying anyway.   In this second half of my post, I want to explain how you can get off this perfectionism treadmill.   Just as treadmills have an emergency-stop safety mechanism, I want to show a reasonable way to stop the perfection belt from running you ragged.
The solution to perfectionism is this:  Let's only do what is REASONABLE instead of trying to do everything perfectly.  
[Before I explain further, let me be clear that in renouncing perfection, I'm not advocating for sloppy or shoddy performance, and I'm not encouraging laziness or mediocrity.  The standard I uphold is doing a reasonably excellent job in each of our various responsibilities.]
If I spend too much time and energy trying to be the perfect employee, working overtime, etc., that will come at the expense of my family obligations.  If I invest too much time being the perfect family member, that will detract from my church responsibilities.  If I spend too much time being the perfect church member, that will keep me from practicing self-care, etc.  Each area competes for my limited time and energy.  Attending to one thing always comes at the expense of something else.  To reduce it even further, every minute spent on one area is a minute not spent on another.
So, considering all the roles and responsibilities I need to fulfill, my aim in life is to be a reasonably effective–not perfectly effective–husband, dad, grandpa, citizen, friend, blogger, runner, etc.  I don't have unlimited time or energy, so I have to find a reasonable balance between each of these competing roles and responsibilities.
So how do we figure out what is reasonable?
First.  Let's reconsider what roles and responsibilities we should be fulfilling.  Perhaps we are investing our time in too many things or even in the wrong things.  Just because we can do something doesn't mean we should.  Just because it's a good thing, doesn't mean it's the best thing.  Having worked as a youth pastor for over 30 years, I often observed exhausted, depressed, teenagers who were overinvolved with good activities:  multiple school sports, club sports, show choirs, marching bands, all-state competitions, AP classes, mock trial, speech competitions, theater performances, color guard, etc.   And that's just at school!   We should step back and think about what propels us to do more things than we reasonably should.  And we should also think about things we ought to be involved with but aren't.  Honestly, I sometimes felt jealous that the youth group was only given leftovers from some students!  But my judgments don't matter; the important thing is what God expects.  Ask Him to show you what your reasonable roles and responsibilities should be as you go through the various seasons of your life.
Second.  Once we identify our proper roles and responsibilities, then we need to figure out how to reasonably allocate our limited time and energy between them.  Just as we do in financial budgeting, we need to discern how much of our time and energy we can reasonably apportion to each area of life.   How many hours is reasonable to spend working?  How much time is reasonable to spend on date nights with my wife?  How much energy should be reasonably spent on long-distance racing?  Or marching band?  Or karaoke?  Or video games?  Or Netflix?  Or show choir?     Again, the important thing is to discern what God currently expects of you.  He's the one who has given you your time and talents, roles, and responsibilities for this season you're in.  Ask Him to show you how to reasonably allocate your life.
Third.  Be ready to adjust and don't feel guilty about it.  There will be no perfect allocation because needs constantly change and opportunities constantly arise.  We'll need to frequently modify how we spend our time and energy.  The plans we had at the beginning of the day might have gone out the window by mid-day.  Your plans to study for the science test fell apart because you helped your neighbor whose basement was flooding.  You didn't get the dishes done because you had to take the baby to the clinic.  You didn't get the promotion at work because you wanted weekends with your family.  You got kicked off the team because you chose to go on a missions trip instead of the tournament.  Remember, the goal is no longer perfection–its reasonableness.   Give yourself permission to go to bed saying, "I couldn't do it all perfectly, but all things considered, I did what was most reasonable!"
Ultimately the question to ask yourself is this: "Given my present circumstances, how is God nudging me to reasonably divvy up my limited amounts of time and energy?" This is something we ought to ask Him continuously!
But hold on a minute!  Doesn't God demand our perfection?  Spiritually, yes, but the spiritual perfection He demands was satisfied in Jesus and is imputed to believers by justification through faith.  But in all other respects, God doesn't seem to demand perfection.  He created us and thus understands our physical, emotional, mental, and temporal limitations even better than we do.  He sympathizes with us in our weaknesses.  God knows our frame, that we are dust.  He is a God of mercy and grace, not a cruel taskmaster.  Jesus is gentle and lowly.  His yoke is easy and His burden is light.  It seems clear that our perfect God has very reasonable expectations of us.
At the end of my life, I don't expect to be judged by the impossible standard of perfection, but rather, by whether or not what I did was reasonable.  People who know me, know that "reasonable" is one of the theme words of my life–I talk about it a lot!   In fact, at the end of my life, I hope I'm remembered as the guy who did what was reasonable…reasonably well!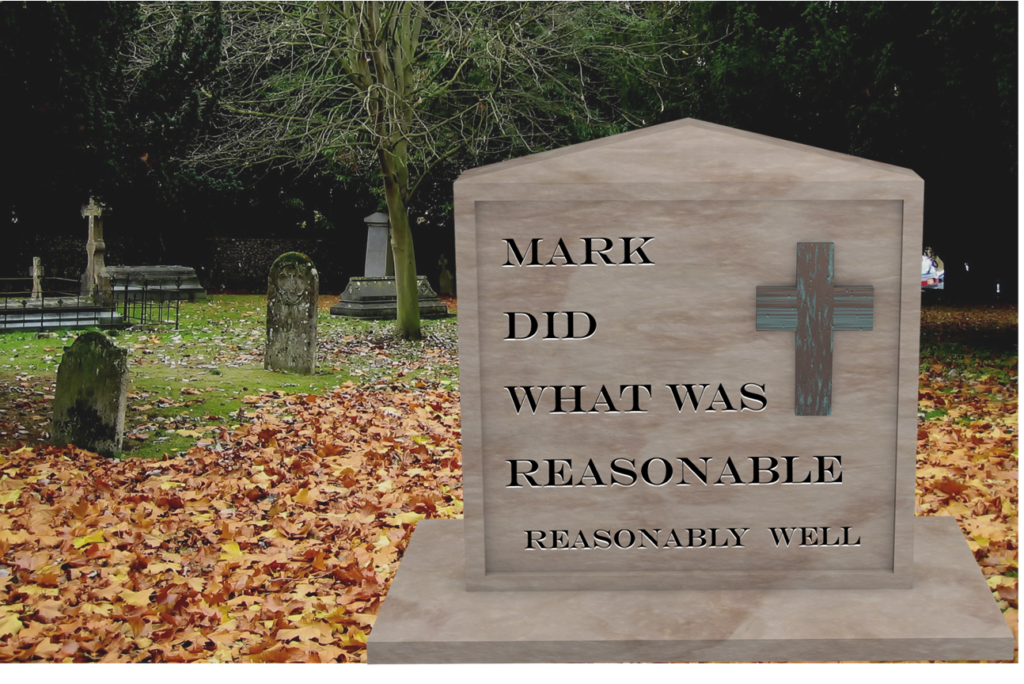 _________________________________________________________________________________________
Subscribe to my blog to receive notifications when I post.