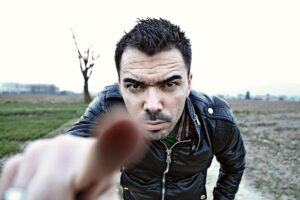 My in-laws will never forget the day–years ago–when I suddenly stood up after a big family gathering and declared to everyone, "You people do something I don't like!"  Even I was shocked that I had said such a thing!  We had just finished our meal and I had been unexpectedly triggered by something.  There was no going back now, so  I continued my complaint, "I don't like it when you Hooblers stack the dirty plates after a meal because then I have to wash both sides of every plate!  That causes me extra work, which I don't like!"
We had the Hooblers over for dinner again today, and, as they were handing me their plates one at a time, they once again recalled my dramatic outburst that day so long ago.  We laugh about it every time!
Complaining improved my relationship with my in-laws!
But what if I had used Criticism instead of a Complaint?  Aren't they about the same?  Not at all.  I find it helpful to make a clear distinction between Complaints and Criticisms.
Complaints are honest expressions of things we wish were different.  They primarily utilize "I" statements and their intent is simply to create awareness about what would improve things for me.  The focus is education.
Criticisms, in contrast, are harsh judgments of a person's character.  They primarily contain "you" statements and they often utilize excessive negativity, sarcasm, and loaded questions.  Their intent is character assassination, revenge, and vindication/victimization.  Criticisms point out a person's faults, make assumptions about motives, and frequently use the words "always" and "never."   They often resort to blaming and shaming, finger-pointing, and scapegoating
What if I had utilized Criticism instead of Complaint at the dinner table with the Hooblers?  Imagine what different result would have occurred had I had suddenly stood up after dinner and said this:
"You people really love making my life harder, don't you?  You're always trying to make more work for me and you don't even care about the fact that now I'm going to have to put in twice as much work to clean up your messes.  You never think about anyone but yourselves do you?"  Well, I'm sick and tired of you coming over here and treating me like your slave. "
I can guarantee there would have been no laughter today had I approached them back then with harsh Criticism.  Hurt and emotional distance? Likely.  Laughter?  Not a chance.
To be fair, it's worth noting that as far as the dishes go, using either a Complaint or a Criticism will likely produce the same result.  A Complaint would sensitize relatives on how they can be a blessing to the host.   A Criticism might keep in-laws from ever coming over for dinner again!
[Side note.  If Criticism has been the pattern in your relationship, it's likely that your genuine Complaint may be interpreted as a Criticism.  This is because you have conditioned the other person to brace for impact.   In that case, you will have to add extra sweetness to your Complaint to make your motives clear and to avoid misinterpretation.  You'll need to go out of your way to include positivity, prior to your Complaint, saying: "I love you so much and I want to share something with you that I think will help us get closer."]
Finally, there is a third option when frustrations arise:  Concealing our feelings.
Like Criticism, Concealing feelings is another poor option.  Stuffing our feelings and pretending we're not bothered by something may seem charitable, but it's also dishonest;  it denies reality and erodes transparency.   Wearing masks brings neither closeness nor connection.  It is much better to disclose our true feelings, which demonstrates self-respect as well as respect for others–those we care about deserve to know how their actions affect us!
So let's neither Conceal our frustrations nor Criticize others.  Instead, let's  Complain more for healthier relationships!
---
I credit learning the difference between a Complaint and a Criticism from a book by Dr. John Gottman, "The Seven Principles for Making Marriage Work." an excellent marriage book that I recommend for couples.   How we speak to each other makes a world of difference if we want to have healthy relationships.