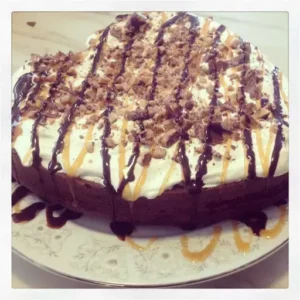 I still remember where I was when I first heard about Better-Than-Sex-Cake.   I was in my late 20s at my mom's aunt's house in New Jersey.  The description of this dessert left an impression on me that remains–almost thirty years later!  My great aunts' portrayal of the coveted confection literally made me drool:  rich chocolate cake, drizzled with gooey caramel, chocolate-covered toffee, and topped with frozen whipped cream.
Now to be honest, I've never actually tasted Better-Than-Sex-Cake, but from everything I've heard, it must certainly qualify as the best delicacy on the planet!
Recently I've been pondering: what if there was something in the universe even more delightful than Better-Than-Sex-Cake?   That would be amazing wouldn't it!   Wouldn't you want that?
I sure would.   And I believe I know what it is.   C.S. Lewis points us to it…
If we consider the unblushing promises of reward and the staggering nature of the rewards promised in the Gospels, it would seem that Our Lord finds our desires not too strong, but too weak. We are half-hearted creatures, fooling about with drink and sex and ambition when infinite joy is offered us, like an ignorant child who wants to go on making mud pies in a slum because he cannot imagine what is meant by the offer of a holiday at the sea. We are far too easily pleased. (C.S. Lewis, The Weight of Glory)
Lewis asserts that there exists something infinitely better than mud pies or chocolate cakes.  This "infinite joy" that he talks about is nothing but God Himself!  What if we were to experience a delight in God that surpasses all earthly delights?
I've been thinking about that a lot lately.  The Bible describes the Creator of the universe as One who wants to delight those who trust in Him.  Psalm 37:4 says,  "Delight yourself in the Lord, And He will give you the desires of your heart."   Is God really delightful?  Many people live as if He is not.
It occurs to me that God is the One who created the pleasure sensors in our brains and the neural pathways that allow us to experience pleasure through our five senses.  He also created all the pleasures themselves, including the ingredients for Better-Than-Sex-Cake, not to mention the activity that inspired the cake's name.  Wouldn't it make sense that the Creator of these earthly delights is more desirable than all of them combined?  The Giver of gifts is greater than the gifts themselves.
Thinking about this reminds me how much I need to improve in finding pleasure in God.  To those like me who trust in Him, He offers unconditional love, kindness, forgiveness, patience, peace, and purpose. He gives me meaning in this life and hopeful assurance for the life to come.  He treats me quite the opposite of what I deserve.  What could be more desirable than that?  I find, like C.S. Lewis, that I have been far too easily pleased.
Time spent with Him through His Word and through prayer should become more delightful to my soul than any earthly pleasure.  Relishing God Himself ought to literally be the highlight of my day–every day.
And if it's not the highlight of my day–which I'm ashamed to admit is most days–that means that this is something I really need to work on!