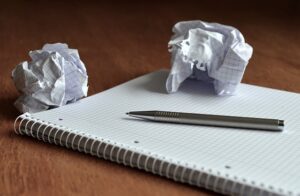 Recently I did something that has made my life much more enjoyable.  I scrapped Cindy's Honey-Do List–permanently!   Since getting rid of it, my life has improved considerably.
For you singles reading this who may someday get married, let me explain what I'm talking about.  A Honey-Do List is a list that your spouse will make for you and leave in a prominent place for you to see.
Usually, the list will contain household projects or chores that you won't care about whatsoever (otherwise you would have already done those things and there would be no need for a list.)   To you, most of the things on your list will seem needless, irrational, frivolous, or a waste of time and energy.   Your spouse has likely gotten tired of nagging you about these things and is hoping that putting them in list form will motivate you to action.  This will rarely occur.   And if you ever do accomplish the projects on your list, you will likely do them with much grumbling and eye-rolling.
Except for the nagging part (Cindy doesn't nag), that's how it's been with me for the past 37 years of marriage.  That changed a few months ago when I discovered an easy way to scrap Cindy's Honey-Do List and be free from its burdens.   Why didn't I think of this sooner!
Before I scrapped them, Cindy's Honey-Do Lists would often contain things that I considered to be a total waste of time.  Things like:
Paint the deck where the old paint is peeling.
Rake the unsightly leaves from the yard.
Put covers over the air conditioner unit and grill.
Shovel the 8 inches of snow off the driveway so the ladies' group can get to our front door.
Unreasonable stuff like that
As you can see, pretty much everything on Cindy's list was totally ridiculous.  Surely,  you can sympathize with my reluctance to comply with such frivolous tasks and can understand my incessant eye-rolling about such matters!
So how did I shake free from this oppression?  Let me tell you the story.
Late last fall another ridiculous item appeared on Cindy's Honey-Do List–Check the gutters for leaves.   In Cindy's "irrational" way of thinking, leaves could blow on the roof, get washed into the gutters, and clog the gutters, causing water to stop flowing down the gutters, turning to ice in the gutters, causing ice dams to form, causing water to leak through the shingles and into our house, causing untold damage and destruction.  As I said, ridiculous!
As usual, I protested in my head, appealing to logic and common sense as my reason to resist.  The tree in the front doesn't have that many leaves and it doesn't even hang over the roof.  We've never had ice dam problems in the 33 years we've lived here.  The risk of me falling off a ladder far surpasses the risk of having our house destroyed by a theoretical ice dam.   It's cold outside.  And on and on my mind went, looking for any way to opt-out.
And that's the moment when I had my epiphany about completely scrapping Cindy's Honey-Do List.
This profound thought hit me.  What if reframed Cindy's list from…
Things That Need to Be Done  (which, of course, we will disagree on and which I will stubbornly resist)
and instead, think of it as a list of…
Things That Would Mean A Lot To Cindy  (which no one can disagree with and which I actually find motivating)
This new viewpoint literally made a world of difference for my attitude.  I literally rushed to the garage, grabbed the ladder, set up the ladder, climbed the ladder (putting my life at risk by the way), and looked up and down the gutters (confirming my prediction that there were no leaves).  And then I climbed down and put the ladder away, and rushed inside to announce to Cindy, "Honey, you'll be so relieved to know that there are no leaves in the gutter to be concerned about."
Loved wife.  Big kiss.   Happy home.
What made the difference?  When I looked at her list as a list of things that need doing, it was hard to avoid questioning whether those things were actually needed or not.  It caused contention about who's opinion was more correct and whether the things were truly needed.  It set us up for a tug of war battle.   But when I looked her list as being  measurable ways to show her love everything changed.  It was akin to identifying Cindy's extra love languages.
Ever since that day, we've scrapped the Honey-Do List at our house.  The new list is on my dining room table as I write this.   At the top, it reads:  "List of Things That Would Mean A Lot To Cindy."   I think I'll quit blogging now and go find something to check off!