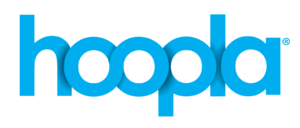 Don't you love it when your kids tell you about something amazing!  Lexi, introduced me to a great resource that has quite literally changed my life.   I'm blogging about it because many of you may find this resource as helpful as I did.  What is it?  Hoopla!
Hoopla is a free service, provided by public libraries (including Cedar Rapids), offering audiobooks, e-books, and videos.  To log in, you just have to use your library card number.  I use it almost exclusively for audiobooks, of which there are tens of thousands to choose from.   You simply stream or download the books to the app on your phone and listen to them!  They return automatically in 21 days.  I started using Hoopla in January and I was shocked to see that I've listened to 52 books this year!
How did I have time to read a book a week while being a full-time grad student doing a counseling internship?  It has amazed me how much time can be reclaimed by making use of otherwise wasted time.  I read while at the gym, on the treadmill, in the car, running errands, traveling, mowing grass, shoveling snow, vacuuming, gardening, working on projects, etc.
To give you a taste of what is available, here is the list of books that I listened to in 2020 (in no particular order), along with a short description of each.
All You Can Ever Know by Nicole Chung. A riveting memoir about a Korean adoptee who searched for her biological family.
Understanding People by Larry Crabb.  He talks about what it means to be human and how each component needs to be mended.
Amusing Ourselves to Death by Neil Postman.  I have been meaning to read this culture critique for years.  Written in 1985 but just as relevant today as ever.
Blessed are the Misfits by Brant Hanson.  The author shares his reflections on life with Asperger's Syndrome.
St. Francis of Assisi by G.K. Chesterton.  An interesting biography of a person I wanted to learn more about by an author I've wanted to read more from.
The Pursuit of God by A.W. Tozer.  A classic that I hadn't read since college days.
When the Darkness Will Not Lift by John Piper.  Encouraging reflections for Christians suffering from depression.
The Search for God by C.S. Lewis.  A collection of short essays about faith and culture. 
You and Me Forever by Francis Chan.  My daughter Brenda considers this her favorite marriage book and I now see why she says that.
The Hidden Smile of God by John Piper.  Three interesting biographies of suffering saints: David Brainard, William Cowper, and John Bunyan.
Why Marriages Succeed or Fail by John M. Gottman.  Scientific evidence about what builds or erodes marriages.
Knowing God by J.I. Packer.  Another classic that I hadn't read since college days.  Are we balconeers (watchers) or travelers on the journey?
Christian Atheist by Craig Groeschel.  He unpacks the folly of talking the talk without walking the walk.
Paradise Lost by John Milton.  A literary classic.  I was amazed at the theological depths of human depravity expressed through this extended poem.
Dangerous Duty of Delight by John Piper.  A short book about the importance of delighting in God.
Contentment by Chip Ingram.  A good book on the subject.
Atomic Habits by James Clear – Book Summary by Dean Bokhari.  A client recommended this book on self-management, so I wanted to check it out. Good tips.
George McDonald by C.S. Lewis. This is Lewis's compilation of many of McDonald's profound reflections.
Sacred Marriage by Gary Thomas.  I re-read my favorite marriage book. What if marriage is about becoming holy, more than happy?
The Marriage Builder by Larry Crabb.  I really enjoyed this book.  Are you manipulating your spouse or ministering to your spouse?
Crazy Little Thing Called Marriage by Greg Smalley.  Humorous personal stories and principles for a healthy marriage.
Becoming Mrs. Lewis by Patti Callahan.  A historically researched fictional account of Joy Davidman's life and marriage to C.S. Lewis.
A Grief Observed by C.S. Lewis.  Lewis's personal reflections on losing his wife to cancer. 
Soul Keeping by John Ortberg.  This book was mentioned twice in other books, so I decided to read it.  A good one about caring for your soul.
The Truth About Us: How We Fool Ourselves and How God Loves Us Anyway by Brant Hansen. I really enjoy this author, his style is humorous, poignant, and convicting.
Boundaries in Marriage by Henry Cloud.  My biggest take-away:   my spouse should not complete me, but rather complement me.
Crucial Conversations book summary (Flashbooks)  Good, quick 30 min overview of an excellent book on communication.
Summary of Crucial Conversations by (Abey Beathan) More comprehensive than the previous, but sounds like a robot is reading it
Costly Obedience by Mark Yarhouse.  Thoughts about Christians experiencing same sex attraction.
That Hideous Strength by C.S. Lewis.  Part 3 of the space trilogy.
Prelandria by C.S. Lewis.  Part 2 of the space trilogy.
Out of the Silent Planet by C.S. Lewis.  Part 1 of the space trilogy, which allegorizes creation, the fall, and redemption.
The Abolition of Man by C.S. Lewis.  Thoughts on the education system and how human emotion is overlooked.
Becoming Whole by Brian Fikkert. Excellent follow-up to When Helping Hurts by the same author.  Compassionate agencies must address the whole person.
The Disciplines of the Christian Life by Eric Liddell.  I believe this is the only book written by Eric Liddell, published after his death.
Eric Liddell by John Keddie.  A wonderful biography of the Olympic runner.
Eric Liddell by Janet and Geoff Benge.  Another great biography of Eric.
The Warden and the Wolf King by Andrew Peterson.  Part 4 of the fictional young adult series.
The Monster in the Hollows by Andrew Peterson. Part 3 of the fictional young adult series.
North! Or Be Eaten by Andrew Peterson. Part 2 of the fictional young adult series.
On the Edge of the Dark Sea of Darkness by Andrew Peterson. Part 1 of the fictional young adult series by this famous Christian singer. It's a fantasy, which allegorizes the Christian message.
Necessary Endings by Henry Cloud.  How change is sometimes necessary, though painful.
The Boy Who Harnessed the Wind by William Kamkwamba.  A fascinating memoir of an African boy genius who brought wind-generated electricity to his people from scraps he found in a junkyard.
Amazing Grace by John Piper.  A biography of  William Wilberforce, who brought slavery to an end in England without war.
The Gospel Comes with a House Key by Rosaria Butterfield.  A call to be neighborly, by opening up our lives and homes to our literal neighbors.
Christians Get Depressed Too by David Murray.  A short, but good book, dealing with depression from a Christian point of view.
Dispatches From The Front by Tim Keesee.  Amazing stories from around the world of how God is working in hostile places.
What Your Body Knows About God by Rob Moll.  Scientific evidence of how our bodies are designed to connect to the spiritual.
The Body Keeps the Score by Bessel Van der Kolk. This was required reading for my degree, but it was amazing to learn about how trauma is connected to physical responses and the various ways to recover.
.
Aside from Hoopla audiobooks, the Bible, and school textbooks, I also read four paper books
Silent Night by Susan Thomas.  The autobiography of the subject of the tv show Sue Thomas: FB(eye).  She was blind and did lip-reading for the FBI.
Imitation of Christ by Thomas a Kempis.  Ancient wisdom from one of the church fathers.
Out of Your Comfort Zone by George Verwer.  A call to live a life of sacrifice and service by one of our modern-day heroes.
Marriage Matters by Cheri Swalwell.  A collection of stories about how to have a healthy marriage, edited by a former youth group student of mine!