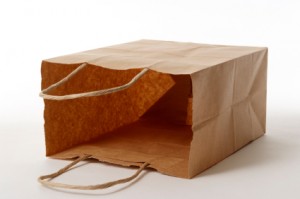 Our family has decided to give up Groceries for a month! Once again this confirms that our family is more than just a little odd! We did, after all, give up electric lights for a whole week last year. And we pulled the plug on our TV almost two years ago.
Here's what's going on this time. We had a "family meeting" recently where we talked about the fact that our family spends exactly $500 per month on groceries. (We use the "envelope system", which always keeps us within our budget). We also talked about the large amount of food we have stored up in our cupboards, fridge and freezers, which would be good to purge. As we talked this question was raised: could we live for a month on the food we already have in our house? I said a resounding "Yes!" — the others weren't quite as convinced! But we all agreed it was worth a try. With only a slight amount of compromising the challenge was set!
We decided to only buy "essential" groceries (milk, fresh fruit, etc.) and to try to spend as little of the $500 as we can. Whatever money we don't spend we'll donate to some ministry that distributes food.
It's really not been bad at all so far. It's amazing what food options have been hiding in the back of our cupboards for who knows how long! I'm personally looking forward to the end of the month to see what interesting food combinations we'll be forced to serve up!
So far we're a third of the way through the month and we've only spent $31. I'll let you know how it goes as the month progresses!
End of the month report:  We spent a total of $70, enabling us to give $430 towards food for the hungry!