Last night I drove the church bus for the last time.   A short trip there and back to the Great Jones County Fair — featuring a Casting Crowns concert.   Driving that bus has always been one of my favorite things to do!  As usual, this was another delightful trip.
Back at church, I dropped the kids off in the parking lot, grabbed the broom, and headed to the back of the bus, not prepared for what I would encounter there.   Tears.  Lots of them.  Coming out of my eyes.  Completely unexpected.
As I unhurriedly swept the bus for the last time I couldn't help but reflect on how much this bus (and its predecessors) had changed our lives over these past 25 years.  Wherever it brought us it seems God was there, waiting to bond us together and teach us something profound. We always seemed to come home changed.
With tears of joy my mind raced back in time with overwhelming gratitude that God would have allowed me these over-the-road experiences.
15 Mexico trips — we logged about 45,000 total miles on these trips!  And they were brutal — driving over 24 hours straight through.  On each trip God brought together a unique collection of people who had a profound impact on the 41 Mexican families we helped.  In all, 829 people made the trek.
Summer trips to Summit, Toronto, Indiana, Tennessee, New Orleans, Denver, Kansas City, Chicago, Minneapolis, St. Louis, Wisconsin and Colorado Springs.
Close to 100 Retreats to a variety of places including Camp Courageous, Camp Wapsie, Camp Io-Dis-E-Ca, East Iowa Bible Camp, Pine Lake Camp, Pictured Rocks Camp, Camp Wyoming, and my favorite, Rustic Camp Hitaga.  Most memorable retreat:  when we accidentally burned a cabin to the ground at Camp Wyoming.
A variety of special events: concerts, ski trips, ball games, conferences, a Billy Graham Crusade, Promise Keepers, amusement parks, sponsor hunts at the mall, Shamrock Around the Clock.
On these buses we had singalongs, testimonies, story times, comedy clubs, autograph signing, prayer meetings, book studies, discussion groups, creation talks with Charley, get-to-know-you mixers, and even duct-taping kids to the ceiling.  Talk about bonding!
As you would expect, some of my favorite bus memories involved adversity.  Like the time a bus engine caught on fire coming home from Adventureland and Tom Maring just happened to drive by and had it fixed within a half hour.   Or when a Mexico bus broke down in Oklahoma City for 18 hours and a youth group put us up overnight in their really cool youth building.  Or when a bus died in Cedar Falls on the way to Minnesota one winter and we impulsively rented a fleet of vans so we wouldn't have to miss out on skiing.  Or when things got stolen out of a bus at the St. Louis Zoo with no evidence of how they got in — everything was still locked up tight!   Or when a  Mexico bus got stuck in snow in Wichita and we almost had to sleep at McDonalds overnight.   Or when we took a wrong turn in residential Chicago and ended up on a narrow street lined with cars on both sides with less than an inch of side clearance space.  Or when the transmission dropped out of a bus four miles from church . In a blizzard. After dark!
Each was a life-changing encounter, for which I will ever be grateful.  We bonded on these trips.  Lifelong friendships were forged in these seats.  I believe there are married couples today who first fell in love on these buses.
As I continued sweeping — and weeping — I thought about how so many of my personal ministry passions were fulfilled by having these buses.  I thought of what we would have missed out on had they not been at my disposal!
My thoughts then turned to the people over the years who procured these buses and helped keep them running.  For Brian Valenti (aka The Commish), who knew how to pick the perfect bus and who trained so many drivers over the years.  For Randy Hudson who helped me pick up our first "new" bus when I first came.  For Dave Beer,  who who did — and still does — the bulk of the mechanical work and the painting.  For Jeff Westrom, who came up with snazzy paint designs and helped implement them.  For John Maehl's financial and property management expertise  For George Bushlack, who always puts so much heart into into keeping the buses roadworthy and in tip-top shape.  For Larry Pinkston, who wired up a 50 foot internal microphone so we could have better sharing on the road.  For Charley Snodgrass, aka KC0CD, who wired them up with ham radios and who drove more miles than anyone except me, aka KC0ODH.  For Ruth Stavlund for stitching up the torn bus seats.  And for all the drivers, who worked so hard to get CDLs to help the ministry.  For all the sponsors who gave up their comfort to mingle with teens, sharing their lives with each passing mile.  For the New Covenant attenders over the years whose offering money helped pay for these vehicles and gas.
All these thoughts flooded my mind last night.  My tears were all tears of joy and gratitude to God, and not at all of sadness.  Those great memories made within these metal walls will be with me forever and they've changed me permanently.  We had something special for which I will ever be grateful.  It was a good ride!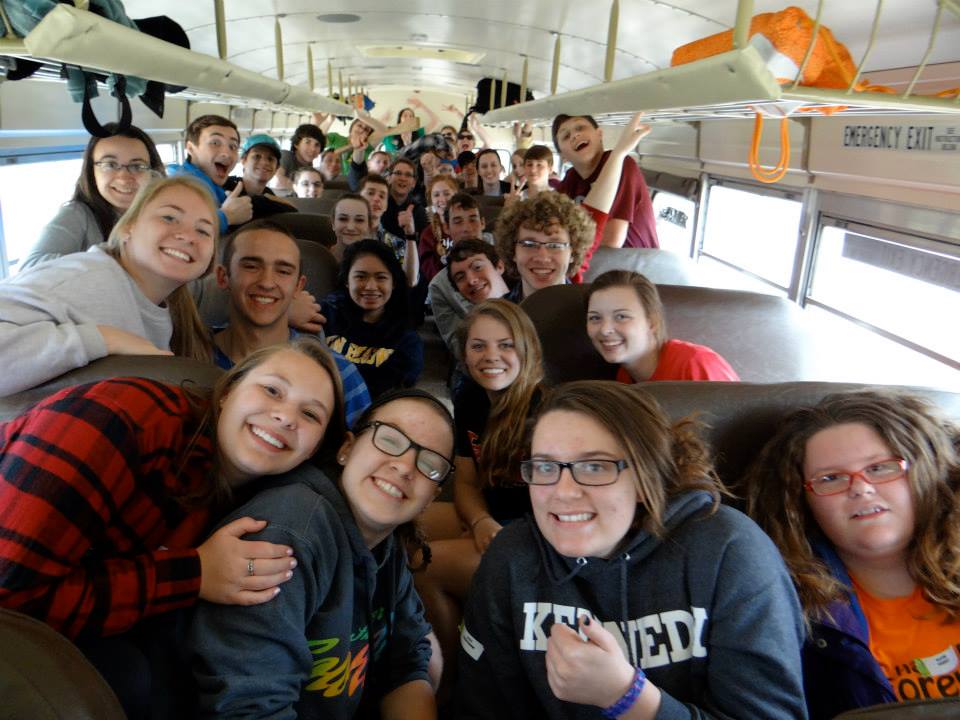 But all journeys must come to an end and God has made it clear that my time has finally come to deboard this bus.  As I lock up the bus for the last time I know it's time for someone else to chart the course for the future of New Covenant's high school ministry.  God's blessings will continue through the leadership of another and that thought also brings me joy.
As for me, I know it's time to focus my energies on bringing hope and healing to a broken world.  I'm not sure exactly where this new counseling adventure of mine will lead, but I'm excited to find out.