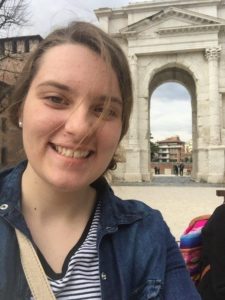 Over Spring Break Lexi went to Northern Italy with the UNI Wind Symphony.   She had a wonderful time playing the saxophone which she loves, getting to know her bandmates, and enjoying a new part of the world she'd never seen.
Her social role within the band quickly became that of a cheerleader.  Whenever enthusiasm would wane or boredom would creep in Lexi would pipe up, "Guys, guess what!  WE'RE in ITALY!  Aren't you EXCITED!!" and that would return everyone's focus to the amazing reality of their situation.
Lexi was simply reminding her friends of a truth that they already knew but had lost sight of.  Any instances of boredom or lackluster attitudes were merely the result of forgetting what an awesome place they were in.  Her animated reminders brought them back to reality and quickly helped them regain their excitement.
I think we need a similar reminder when it comes to our relationship to God.  It's easy for our devotional life to become mundane and boring.  Why?  Because just like Lexi's bandmates we've forgotten the amazing reality of our situation and we need to be reminded of what's true.
"Guys, guess what!  WE'RE INVITED TO HAVE A PRIVATE, FACE-T0-FACE MEETING EACH DAY WITH THE CREATOR OF THE ENTIRE UNIVERSE!! HE WANTS TO SPEND TIME WITH YOU.  Aren't you EXCITED!"
I've been contemplating this ever since Lexi shared about her trip and it has surprisingly transformed my approach to God.
What if I actually started living out what I know to be true?  What if I started to view spending time with God in the same way I would if I was being invited to have breakfast with a celebrity?  Would I hit the snooze button five more times if a head of state was waiting for me at my breakfast table?  Wouldn't I go to bed early the night before if I had a breakfast appointment with a famous person, and if I were to wake up in the night wouldn't I be counting the hours?  Wouldn't I be excited when my alarm went off, no matter how early it was?  Wouldn't sluggishness and boredom be unthinkable?  Wouldn't I view my time with this celebrity as a humbling privilege rather than a chore?
By reflecting on such questions over the past months I can honestly say that I have enjoyed my early morning times with God more than ever before.  There have been many mornings when I have bounded out of bed to spend some quality time getting to know God deeper through His Word and prayer.
But it's easy to forget what's true.
And so just as Lexi's enthusiasm reminded her bandmates of what they knew to be true, may this blog post remind you and me of what a privilege it is to be invited to meet each day with the Creator of the universe.