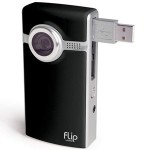 I'm sitting here listening to the sounds of a baby crying upstairs in our house.  Sounds that bring back fond memories.
We found an old box of videotapes recently and Lexi particularly has been enthralled with looking at these old family memories.   We have hours and hours of footage of baby Brenda.  Brenda being held.  Brenda staring at the camera.  Brenda opening Christmas presents.  Brenda beign changed.  Brenda taking a bath.  Brenda gurgling.  Brenda rolling over.  Brenda "singing."   Brenda rolling the ball.  Brenda smiling adorably.  It's priceless.
Then Lexi asked the question I was dreading, "where are the videos of me as a baby?"   There are none.  I feel like an abusive parent.  Like she'll grow up feeling 2nd rate.  Like we didn't love her as much as we loved Brenda (which certainly isn't true, but the evidence would lead to this conclusion.)  Like she'll suffer emotional scars because of parents who treated her like this.
I just apologized again to her for this negligence, but it can never undo this oversight.  If I could do it all over again I'd make it a point to take equal footage of her, or at the very least some footage.   
Maybe this post will cause some of you to get the camera out right now and shoot some footage.   I don't want you to experience the regret I'm feeling right now.